Sharon Hampton – General Manager at Podology, tells us about her career and what her role involves;

"This career path has been a total surprise to me, I have to say when I took this position, I even dared to suggest to my husband, that I may get a little bored!! Well I now know that was a very unrealistic view of what I was getting involved in."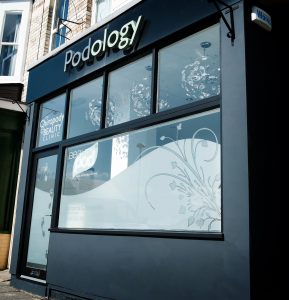 My background has always been customer service, from Santander as a customer relations officer to a facilities management company as a client manager and I love my work with all my heart. I have been incredibly lucky to have met some wonderful and inspirational people on the way and Podology has been no different. It has opened my eyes to the beauty and podiatry industry.
I put 100 % into everything I do and treat the business like it is my very own, so joining Podology at a time when Laura was ready to extend the business was ideal. Laura has some amazing ideas and wanted my help to systemise the running of the business along with allowing her to have more time to get her creativity flowing. I ensure all the administration and accounting is up to date as well as managing the HR and ensuring staffing is correct. Learning about new treatments and products is one of the best parts of my job!
Putting customer service at the heart of our small business has been really important to me. Our front of house team, Caroline, Laura B and myself – pride ourselves on our professionalism, always willing to go that step further to ensure you have the most enjoyable and restful time whilst you spend time here at Podology. We are there to support the podiatrists and beauty therapists as well as advise clients on treatments and products. We  make sure everything operates smoothly and efficiently.
The clinic has changed so much in the 6 years since I have been here and is now leading the way in skin care with top of the range equipment, keeping Saltburn totally up to date with all of the new skin treatments that are available …..and there's more to come…
Watch this space!
Business owner Laura says:
Sharon's appointment as General manager – came at a time when we were due to expand the business and create more treatment rooms and increase staff. I knew I needed some help in that growth period to systemise the day to day running of my clinic. I had been finding balancing a busy treatment diary and running the business increasingly difficult. There simply wasn't enough hours in the day! Sharons appointment allowed me to concentrate on the clinical direction of the clinic. Sharon is an absolute asset to Podology and is my wing women, her work ethic is outstanding and the job always gets done. But more than that she is a beautiful soul, good fun, and a great manager and friend. Thank you Sharon x